Delay in signing Hull Green Port wind turbine factory deal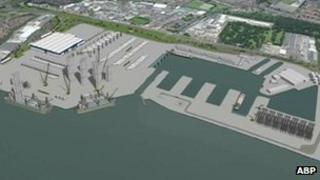 The signing of a deal to build a £210m wind turbine factory in a Hull dock has been delayed until 2013.
The project, a collaboration between engineering firm Siemens and Associated British Ports (ABP), was given planning permission in May.
Matt Jukes, ABP port director for Hull, said the delay was down to the planning process and that all parties remained committed to the project.
The deal is expected to be signed early in the new year.
A report in industry trade magazine suggested that uncertainty about the government's renewable energy policy was a factor in Siemens delaying the development.
Recharge Magazine said a source had told them the delay was partly down to minor issues in the planning process, but also "partly due to industry uncertainty over the timing of projects, in the context of the UK government's electricity market reform (EMR) programme".
"Consistent message"
Sam Pick, from Renewables Network, which promotes green energy in the Humber region, said he was "very confident" the project would go ahead, but the government needed to provide clarity on its energy policy.
He said: "What investors need to see is stability from the government. Decisions need to be based on fact and the mathematics behind the industry, not politics.
"So the government simply does need to have a clear, consistent message and the industry will deliver."
A Department of Energy and Climate Change spokesman said: "The UK remains the number one market in the world for offshore wind and we want Siemens to be a part of it.
"We remain in close touch with the company at the highest levels to deliver their investment in a manufacturing facility in Hull.
"The recent Banding Review announcement set out the Government's long-term commitment to the offshore wind industry and the Energy Bill we will publish shortly will give further certainty to investors."
Siemens has said the factory would employ 700 people making blades and turbine units for offshore wind farms.
It will spend £80m on the factory, with ABP investing a reported £130m on the dock's infrastructure.