Bridlington stranded whale died of 'bacterial infection'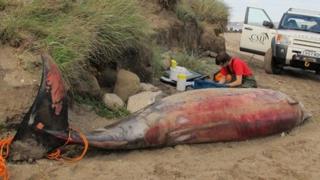 A whale washed up on a beach in East Yorkshire last week died of a bacterial infection of the brain, a post-mortem examination has shown.
Volunteers attempted to rescue the 4.1m (13ft) female Sowerby's beaked whale after it became stranded in Bridlington on 30 September.
Another whale died on the same day when it was beached off the Suffolk coast.
Specialists at the Zoological Society of London said the causes of death were not linked.
Rob Deaville, project manager of the Zoological Society of London's UK Cetacean Strandings Investigation Programme, said the provisional cause of death in Bridlington was a bacteria called vibrio vulnificus found in the whale's brain.
He said the bacteria could be found in most marine environments including estuaries and coastal areas.
The whale died after an eight-hour rescue attempt by volunteers, lifeboat crew and members of the British Divers Marine Life Rescue.