Decision to end Humber fuel shipments by barge 'barmy'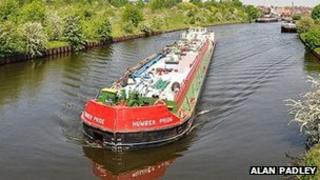 A ship's crew has claimed that the number of lorry journeys on East Yorkshire's roads will increase after a decision to end oil shipments by canal.
At the end of October, road tankers will replace a barge which transports fuel from Immingham to Leeds via the Aire and Calder canal.
One crew member said the decision to use road transport would have a negative impact on the environment.
The shipping company said the decision was due to health and safety reasons.
Crew member Graham Downing, who faces losing his job when the shipments end later this month, described the decision as "barmy".
'Engine's emissions'
Mr Downing said the barge Humber Pride transported 480 tonnes of oil in one journey. It makes two trips a week from a refinery in Immingham.
To replace one barge journey, Mr Downing claimed that 19 fuel tankers would be needed.
He said: "You've only got one engine's emissions, whereas, to carry the same amount you've got 19 engines.
"I cannot see for the life of me how it can possibly be environmentally friendly, or even cheaper."
It is understood one reason to end the barge shipments is the cost of upgrading the Humber Pride to comply with anti-pollution rules, which require vessels to be double hulled.
The fuel shipping company GB Oils said: "Both the barge providers and GB Oils have exhausted all avenues and it is with regret this decision has been made.
"If circumstances change in the future, barge deliveries are something we will consider reverting to."