Kirton in Lindsey memorial unveiled to American airmen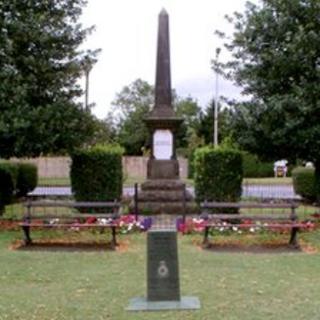 A memorial to American airmen who served in the RAF during World War II has been unveiled in Lincolnshire.
A service was held in Kirton in Lindsey, where the granite memorial stands, to mark 70 years since three Eagle Squadrons flew from the town.
Historian Roy Heidecker said their contribution ahead of the USA entering the conflict was incredibly important.
A spitfire flew past during the service, which was lead by the Mayor of Kirton in Lindsey, Billy Boyd.
Mr Boyd said: "We think it's a debt of honour for these fine men, as 10 of the servicemen are buried here in Kirton in Lindsey."
The memorial is inscribed with the names of the 10 American personnel who died flying from the town's base.
Mr Heidecker added: "The Eagle Squadrons were three squadrons - the RAF 71, 121 and 133 - who were composed of American pilots who came to Britain prior to American entry into WWII to fight against the Nazis.
"Their legacy continues today as the 4th Fighter Wing in the American Army Airforces - the premier fighters squadron of the United States.
"This 70th anniversary is a very significant days for us."