First Catholic mass at Beverley Minster for 500 years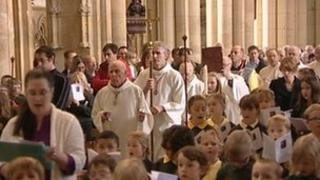 Beverley Minster has celebrated its first bishop-led Catholic service since the reign of Henry VIII.
The service by the Bishop of Middlesbrough was to celebrate the 50th anniversary of a local Catholic primary school.
The school is named after Saint John of Beverley who founded a monastery in the East Yorkshire town in the 8th Century.
The saint's remains are buried in the Minster.
The mass was attended by teachers, pupils and their families.
The Bishop of Middlesbrough, the Right Reverend Terence Drainey, said: "Of course I'm thrilled and privileged that I should be the first Catholic bishop to be celebrating mass here since the Reformation."
"But the main thing is I am here for the children."
The Reverend Jeremy Fletcher, vicar of the Minster, described the mass as a "great day" for the church.
He said: "I think many people in the East Riding, in this region, think that Beverley Minster belongs to them, wherever they happen to live.
"It's kind of a regional church, it always has been.
"People came here centuries ago because Saint John of Beverley is buried here."