Hull firefighters tackle blaze at industrial building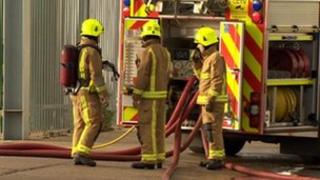 About 20 firefighters have been tackling a blaze at an industrial building in Hull.
Humberside Fire and Rescue Service said it was called to Carlton Street at about 15:45 BST on Thursday. Four engines were sent to the scene to control the blaze.
An eye witness said the fire reached "about 30ft high".
Elliot Cox, 44, from Hull, said the area was covered in thick black smoke.
He said: "I was driving down Hawthorne Avenue, near the train line, when I saw all the flames and black smoke.
"I stopped about 400 yards away from the scene and it looked like a load of plant machinery that went up - diggers, tractors etc."
Mr Cox said the area surrounding Carlton Street had been blocked off by the fire brigade.
It is not yet known whether the building was derelict or in use at the time of the blaze.
An investigation has been launched by the fire service.