Hull NHS protest march in city centre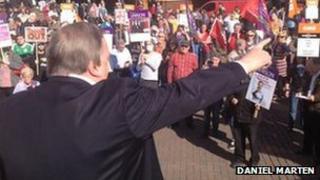 A protest march has been held in Hull city centre by campaigners angry about changes in the local health service.
Organisers said up to 500 marchers met in Queen Victoria Square where John Prescott, former Labour MP for Hull East, addressed the rally.
Campaigner Dermot Rathbone said more than 18 organisations, trade unions and voluntary groups were involved.
Hull and East Riding Hospital Trust has said it needs to save £99m by 2018, including £24m this financial year.
The trust runs Hull Royal Infirmary and Castle Hill hospital in Cottingham.
'Impact on individuals'
Mr Rathbone, of Save Our NHS in East Yorkshire, said: "There has been a big groundswell of opinion against what is going on with our services."
"These cuts are disproportionate and unsustainable"
He said Lord Prescott had spoken to the crowd about his own family's personal experience of the NHS and his contribution had focused on the "impact on individuals" of the budget changes.
John Barber, the trust's chief financial officer, said in a recent financial review "the impact of the economic downturn will set significant challenges for the NHS over the next few years".
The campaign group said it hoped to take a copy of its own report on financing the NHS in East Yorkshire to Health Secretary Jeremy Hunt next month.