Call to restore J Arthur Rank's Hull birthplace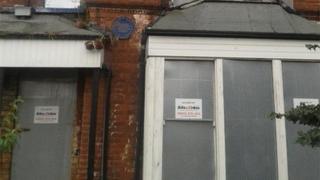 The house in Hull where the renowned British film producer J Arthur Rank was born has become an "eyesore", according to neighbours.
Local councillor Adam Williams said the property on Holderness Road was in the hands of receivers, and had been boarded up for more than two years.
He has called for it to be turned into a museum.
Lord Rank created the Rank Organisation and built Pinewood Studios, dominating the British film industry.
'Massive name'
A blue plaque placed on the house by the Hull Civic Society in 2000 reads: "A Hull industrialist who became Britain's chief maker and distributor of motion pictures
"J Arthur Rank was born here on 22 December 1888."
Mr Williams said: "I think it's really sad that it's got into the state it has done, in the last couple of years especially.
"There are a lot of boarded-up properties all across the country, but this one, with its history and who was born there and having a blue plaque, it seems especially sad that it's got into this sort of situation."
He added: "If the money was available from somewhere it would be great to turn it into some sort of museum."
The Land Registry shows that the property was sold to a private individual in 2008.
Philip Barker, who works across the road from the house, said it had been in a bad state for 10 years.
"It's just an eyesore, it's a shame because it's such a lovely house and it's got history to it, which is even more important to the city," he said.
Hull East MP Karl Turner said: "It really is a shame. We don't celebrate enough what we've got to be proud of in Hull.
"Rank was a massive name in the city, achieved an awful lot of great things: we just don't seem to brag about that enough."