Humber ports lorry drivers asked to help tackle terror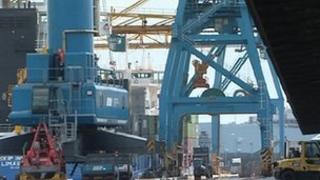 Lorry drivers using the Humber ports are being asked by police to help them tackle terrorism and organised crime.
Drivers are being urged to report any suspicious activity as they travel through the region's docks.
Project Yali is a joint initiative with the UK Border Force, Counter Terrorism Units and the ports' owners and shipping companies.
The scheme will operate at Immingham, Hull and Killingholme.
The project follows a similar scheme started by Humberside Police in February asking fishermen and leisure sailors to report suspicious activity at sea or in ports.
'Volume of traffic'
Earlier this month, a UK Border Force official claimed to have broken up a multimillion-pound cocaine smuggling route between South America and the UK when they seized cocaine with a street value of about £6.5m from three ships in Immingham docks.
Supt Tracey Bradley, of Humberside Police, said: "The volume of traffic using the Humber ports on a daily basis is phenomenal and we believe that closer working with our partners in the transport business is essential to reduce the risk from terrorism and organised crime.
"If Humberside Police and the local transport community can effectively work together by sharing information and intelligence we can better protect the Humberside area and vigilance at all times will be our defence."