Crash biker Anthony Margrave found alive in ditch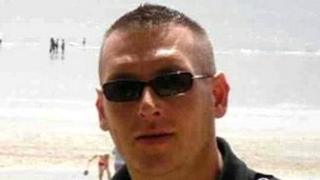 A motorcyclist has been found alive in a ditch in South Yorkshire almost three days after crashing.
Anthony Margrave, 40, from Goole, East Yorkshire, was reported missing by his partner after he went out on his new motorbike last Tuesday.
Police, who searched for two days, said he was found seriously injured in the 6ft-deep ditch near Thorne where he had been for three nights.
His sister Sharon said it was "a miracle" he had been found alive.
Ms Margrave, 42, of Bubwith, East Yorkshire, said the family had been elated when her brother was found on Friday morning.
She said: "Relief isn't the word, he went missing on Tuesday night and he was found on Friday morning.
"When you think your brother's dead, it's an horrendous ordeal, we're all exhausted, it's been an emotional rollercoaster."
Ms Margrave said Humberside Police had "gone beyond the call of duty, they were so professional and were rooting for us at a time when there was all sorts going through our minds.
'Shouting for help'
"We couldn't eat or sleep, our niece and family were searching fields, they were looking in fields and could hear the police helicopter.
"It's a miracle he was found alive, he doesn't know what happened, he remembers heading towards the field and then the ditch.
"He was worried about losing the feeling in his arms and legs.
"He couldn't move to get to his phone, but could feel bugs on his face."
Ms Margrave added her brother had tried to summon help but no-one had heard him.
She added: "The ditch was too deep, there were cars passing and he was shouting for help, but nobody came.
"The extent of his injuries became more apparent as he warmed up in hospital, he has a fractured spine and is breathing with the aid of a machine."
'Long haul'
Mr Margrave's bike was "so badly damaged you couldn't tell which was the back end of the machine", she said.
"It's going to be a long haul for him."
Insp Rob Cocker said: "All officers feared the worst and it was very pleasing to find the man alive.
"It is a credit to his determination that he is still alive."
Mr Margrave was taken to Doncaster Royal Infirmary where he is being treated for multiple injuries including broken ribs and hypothermia.
Police spent two days searching rivers, reservoirs, fields, ditches and houses.
A small amount of debris from a motorbike was found at the A614 near Thorne at 11:20 BST last Thursday.
Firefighters and paramedics were called to join the search and Mr Margrave was found at 12:14 lying in water in a ditch between East Cowick and Thorne.
Police believe the biker crashed into a signpost and travelled 200m further along the carriageway before coming to rest in the ditch.