Hull's Freedom Festival expected to beat 2011 attendance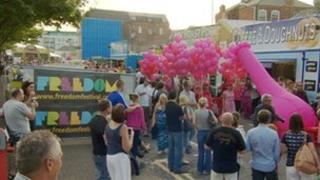 Organisers of a four-day arts festival in Hull have said more people attended this year's events than in 2011.
The Freedom Festival was launched in 2007 to celebrate the city's links with anti-slavery champion William Wilberforce.
About 75,000 people attended music, dance and comedy events in 2011.
Officials said a full count was still taking place but they were confident it would exceed that number by the end of the festival on Sunday.
Pauline Davis, director of regeneration at Hull City Council, said: "This year's festival has been spectacular, it has gone really well.
"We are still working on the numbers but we do calculate that we have exceeded last year's figures."
'Really positive'
Ms Davis said businesses in the city also benefited from the festival.
Sarah Dunn, from Kingston Art Group, said: "On Saturday we had 1,908 people come through the gallery, which is amazing. There are people who came in who only found us because of the festival."
Jill Lawson, who owns Cuckoos Coffee Bar in the city, said she had been much busier this year.
"More and more people from out of town have come and the comments have been really positive.
"We've done an awful lot of business. It has been absolutely amazing."