East Yorkshire chalet park residents face eviction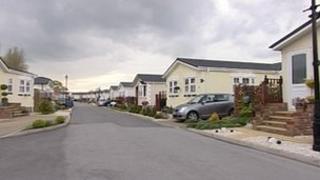 People living at a chalet park in East Yorkshire will be issued with enforcement notices by the council.
Residents at Lakeminster Park near Beverley were told they could not live in their properties all year round as planning permission was only granted for the properties to be holiday homes.
Retrospective planning permission was rejected by East Riding of Yorkshire Council in May.
The park's developer has called the enforcement notices "unnecessary."
In a letter to the 70 chalet owners the council said that planning permission for permanent residence was rejected due to concerns from the Environment Agency about a risk of flooding at the site and the impact on residents of the building of a new road nearby.
In a statement the council said: "The council is mindful that the enforcement notices will be of concern to people at Lakeminster.
"However, given the clear breach of planning control, the strong objections by other agencies and risk of harm, the council considers it has no other option in the public interest but to take formal proceedings."
The developer Lakeminster Park Ltd said it was "discussing with our advisors regarding finding a way forward," and may lodge an appeal against the planning refusal.
The developer William Flannigan said: "We feel this imminent threat of enforcement action on our residents is unnecessary, putting added worry onto older people.
"We are trying to find a solution and hope that this enforcement action will be reconsidered."
Resident David Foulstone said: "The council know nobody on this site can buy another home.
"If the council decide to enforce that could lead to the wholesale homelessness of 125 people."