Concern over poor maternity care choice in East Yorkshire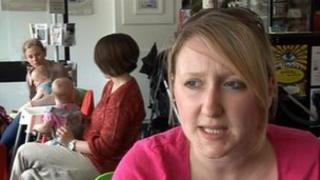 The closure of East Yorkshire's only natural birth centre has prompted concerns from mothers about a lack of choice in maternity care.
The Jubilee Birth Centre at Castle Hill Hospital in Cottingham shut last July because of staff shortages.
Mother Claire Bhana said: "That lack of choice means women are having to have their baby in a particular way."
NHS Hull said a new £500,000 centre at Hull Royal Infirmary would open next year.
Ms Bhana said she felt she did not receive an adequate standard of care when she gave birth at Hull Royal Infirmary.
"While the staff at Hull Royal were fantastic it's so busy and you don't get the support like somewhere like the Jubilee Centre can give you."
She added: "I must have seen four or five different midwives."
NHS Hull is urging people to take part in a consultation currently under way around the choice of places where women can give birth.
Dr Dan Roper, from Hull Clinical Commissioning Group, said: "We want to be in a position to give them more choices because at the present time with the closure of the Jubilee unit they do only have two choices.
"What we're interested in doing is finding out what women want and seeing how we can provide those choices within the envelope of geography and services we commission."