Legal fund to fight Leeds children heart surgery halt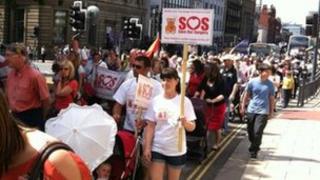 A fund to mount a legal challenge against a decision by NHS bosses to end children's heart surgery in Leeds has been set up by a charity.
An official review concluded Leeds General Infirmary should stop surgery so care could be concentrated at fewer, larger sites to improve standards.
Children will instead have to travel to Newcastle or Liverpool for surgery.
The Children's Heart Surgery Fund charity said it would seek a judicial review if the decision was not vetoed.
The charity said it appealed to businesses across Yorkshire and Lincolnshire to pledge money in an effort to cover the legal costs if a judicial review were to take place.
It had already received a pledge of £5,000 from Lincolnshire County Council, it said.
Fund support
Sharon Cheng, director of Children's Heart Surgery Fund, said: "This decision is not something we are prepared to accept and will continue to fight the decision on behalf of our parents, patients and staff.
"We are currently appealing to ministers to overturn this decision but if this is rejected we have no option but to seek a judicial review.
"As potentially the last option open to parents we feel we have to try."
Thousands of people took part in a demonstration last month opposing the removal of children's heart surgery from the hospital.
Ms Cheng said 600,000 people had signed a petition.
MPs of all parties in the region have been calling for the government to rethink the move.
The former national clinical director for heart disease and stroke, Sir Roger Boyle, who was one of the experts advising the review, said the NHS had made the right decision and that Leeds General Infirmary would continue to play a vital role providing cardiology services to children.