Grimsby land assessed for football stadium and leisure complex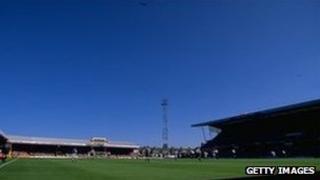 Grimsby Town FC could get a new home under council plans for a new stadium and leisure complex.
North East Lincolnshire Council decided the land in Grimsby would be assessed for development over the next year.
The 22.7 hectares of council land between Peaks Parkway and Weelsby Avenue is currently green space, council buildings and allotments.
Grimsby Town FC could move from its ground at Blundell Park as part of the development.
Lincolnshire firm Simons Development Ltd has been appointed by the council to investigate the viability of the site for a leisure complex and football stadium.
Nearby crematorium
John Fenty, director of Grimsby Town FC, said the attempt to find a new ground for the club was "a breath of fresh air" following a long search.
He said the site's proximity to Grimsby Crematorium would not be an issue.
"This site is not without complexities and substantial consideration has been given to the location and its relationship to the crematorium," Mr Fenty said.
"[The club] realises the potential sensitivity of the matter and will do all that it can in this regard to protect peace and tranquillity of scheduled services."