Flooding in East Yorkshire sparks calls to fire service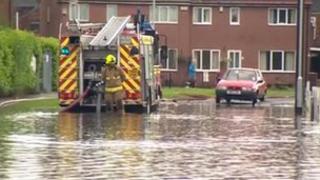 Firefighters have taken more than 50 flood-related calls from residents in East Yorkshire after heavy rainfall.
Humberside Fire and Rescue Service said it was taking an average of 10 calls an hour, mainly from Goole and the surrounding areas.
The Environment Agency is forecasting up to 4in (100mm) of rain and warning of flash flooding in some parts of the region.
Five schools have been closed, along with a health centre in Scunthorpe.
'Under pressure'
Howden School, Skipsea Primary, Kilham CE Primary, Airmyn Primary in Goole, East Yorkshire, and Allerton Primary in Immingham, North East Lincolnshire, were affected.
NHS North Lincolnshire said heavy rain on Thursday afternoon had led to "a large amount of contaminated water" flooding the ground floor of its Ironstone Centre in West Street, Scunthorpe.
Yorkshire Water said about 100 engineers were on site at all of its pumping stations across Yorkshire to check all pumps were "working well under pressure".
Following flash floods in Goole last year, the water company admitted that its pumping station had failed and had agreed to fund a £275,000 study of the drainage and sewerage systems in the town.
The Environment Agency predicts the region will face a "severe weather situation" over the next few days.
It is urging people to take care when driving or walking through flood water.
Lightning strike
Craig McGarvey, from the Environment Agency, said: "We're expecting up to 40mm of rain on Friday, 40-60mm on Saturday, with possibilities of 100mm or more in some locations.
"This is a severe weather situation and we are expecting significant and severe disruption.
"We are asking people to be very vigilant if they live in a flood risk area."
The warning comes after Goole was hit by flash flooding on Thursday afternoon.
The fire service attended a number of incidents including a fire at building which was caused by a lightning strike.