Wilberforce College's Iron Age finds halt building work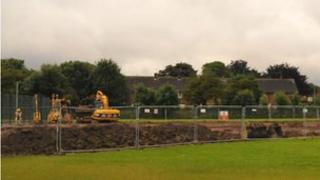 Builders at a college in East Yorkshire have stopped work after finding objects dating back to the Iron Age.
The workers constructing a sports court at Wilberforce College, Hull, have made way for experts from Humber Field Archaeology to inspect the site.
Digs at the site in the east of the city date back to the 1960s and there was archaeological work there in 2010.
David Cooper, vice-principal at the college, said: "This is a really important site."
It is thought the objects found are shards of Iron Age pottery.
Circular field marks
Mr Cooper, who also teaches archaeology at the college, said: "The last dig significantly advanced our understanding of the Iron Age in Hull and East Yorkshire."
He said it was "very early days" in the current dig.
Mr Cooper also said that the site used to be a school in the 1960s and a teacher had spotted circular marks in the school's field and recognised it as a potential archaeological site.
The field remained unscathed during floods in 2007.
Mr Cooper said: "Iron Age farmers knew exactly where to stick their farm, this is a well drained site.
"We are custodians of a tremendous piece of local heritage."