Humber lifeboat families to move inland from Spurn Point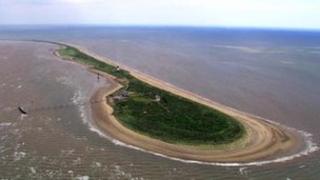 The families of the UK's only full-time lifeboat crew will stop living on a remote peninsula because their homes are too isolated, the RNLI has said.
The families live in a cluster of houses at Spurn Point, at the end of a 6km (3.7 mile) spit of land at the mouth of the Humber Estuary.
The RNLI said the isolation was not "the sort of lifestyle fit for modern day living."
The charity has recruited four new crew members to work a new shift system.
The lifeboat station was founded in 1810 and the paid crew is one of the busiest of the RNLI's all-weather lifeboats, dealing with more than 50 incidents a year.
Spurn Point is a nature reserve which is only 50m (164ft) wide at some points. High tides have occasionally cut off the tip from the mainland.
Crew members currently work a system of six days on and one day off. The new system will see crews working six days with six days off.
Andy Clift, the RNLI's divisional inspector for the Northern Region said most of the crew and their families had welcomed the change.
"Increasingly, we are starting to feel that this isn't the sort of lifestyle fit for modern day living," he said.
"We hoping that this will be a better way of living for all concerned, a better work life balance for everyone."
Mr Clift said the move was not about saving money and the lifeboat would remain with a fully professional crew, as its isolated nature made it difficult to staff the station with volunteers.