East Yorkshire mother jailed for child cruelty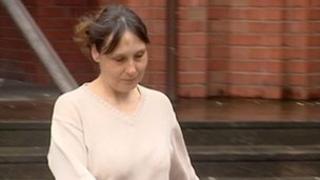 A woman who "blighted" the lives of her children by subjecting them to five years of cruelty has been jailed.
Linda Clappison forced her two youngest children into unpaid work for gypsies, locked them in their rooms and assaulted them, Hull Crown Court heard.
The mother-of-four, of Keyingham, East Yorkshire, was convicted of two counts of child cruelty last month.
Judge Michael Mettyear, who sentenced her to 18 months in prison, said the case was "tragic".
He also praised the "super" children, who gave evidence against their mother in court.
'Treated like dogs'
The court heard the cruelty started when Clappison's son and daughter were aged 10 and six.
She was not charged with offences against her two older children.
Clappison, 46, fed the children only sandwiches and took the lightbulbs, toys, mattresses and bedding from their rooms, leaving them needing hospital treatment for frostbite.
She also shaved her daughter's head at least five times as punishment and then told people she did it because the girl wanted to look like Britney Spears.
Her son, now 18, told the court: "We were treated like dogs."
Judge Mettyear told Clappison: "This is, in many ways, a tragic case for all those concerned.
"Nobody sitting through the trial, as I did, could fail to be moved and impressed by your four children.
"They were measured, sensible and pleasant. That's a credit to them, rather than to you, that they have somehow survived what you have put them through and turned out well."
Judge Mettyear said the progress made by Clappison's daughter, who is now 13 and cannot be named, was "remarkable".
'Melt your heart'
He said he believed something had happened in Clappison's life to make her think in a "strange and illogical way".
The judge said: "The children, with great fairness, said that there was a long period when you were a perfectly good mother, caring and, if anything, overprotective.
"And that then something went very, very badly wrong in your life and your mind."
The court heard that Clappison had still not admitted the offences, instead insisting that her children were "liars" and that she would never consider a reconciliation.
The judge said: "In my view, that's your loss, not theirs, because they are super children.
"It is sad that seeing your children in court giving evidence did not in any way melt your heart."
He added: "You blighted the lives of those children and only custody can be justified."