Woman rescued from car at East Yorkshire cliff edge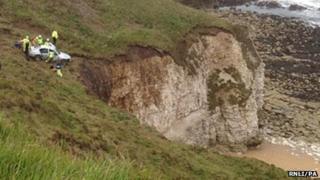 A woman has been rescued from a car which stopped feet away from a cliff edge in East Yorkshire.
It is believed the vehicle went through crash barriers at a car park near Flamborough and careered down a steep embankment on Tuesday.
The woman was freed from the car which had halted close to the 100ft (30m) drop.
Humberside Police said the 32-year-old driver was airlifted to hospital with a head injury and kept in overnight.
The Coastguard, firefighters, the RNLI, police and the ambulance crews were all involved in the rescue.
A spokeswoman for Flamborough RNLI said: "The car stopped precariously close to a drop of at least 100ft.
"There is no information at this time as to why or how the car ended up in this position."
A spokesman for Humberside Fire and Rescue Service said: "The car was balanced precariously close to the edge of the cliff.
"The woman was conscious and, although she wasn't physically trapped, she couldn't get out of the car.
"Emergency services secured the car with a rope line and worked together to release the woman. She was put on a spine board and airlifted to hospital."