BAE Brough staff protest at company's London AGM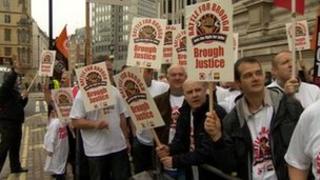 Nearly 600 BAE Brough workers threatened with redundancy have protested at the firm's annual general meeting in London.
The workers travelled down from East Yorkshire on a convoy of coaches.
BAE plans to end the manufacture of Hawk training jets in Brough in 2013, with the loss of 845 jobs.
BAE Systems chairman Dick Olver said job cuts had been "unavoidable and imperative" because of the challenges facing the company.
'Can do more'
Mr Olver said he acknowledged the effect of the job cuts in Brough but said the company had to respond to the changing demands of its customers.
"Governments are quite rightly taking hard decisions on how to spend taxpayers' money," he said.
One of the workers, Steve Olsen, told the board in a question and answer session that BAE was not doing enough to save jobs at Brough.
"You are bailing out very easily, said Mr Olsen.
"The company can do more for people who work at Brough."
The trade union Unite claimed some workers had been denied access to the AGM even though they were shareholders.
'Alternative work'
MPs Alan Johnson (Labour) and David Davis (Conservative), whose constituencies are close to the Brough factory, addressed hundreds of workers at a rally close to the AGM in Westminster.
They spoke out in support of the campaign to save jobs.
Last month, BAE confirmed the job losses after a consultation period with staff and unions, but said there would be no compulsory redundancies before the end of the year.
In a statement, BAE said: "As well as pursuing mitigation opportunities within BAE Systems, we are working with a number of organisations alongside our trade unions to find alternative work which will maintain our employees' skills in the manufacturing and engineering industries."