East Yorkshire Tory MPs vote against 'caravan tax'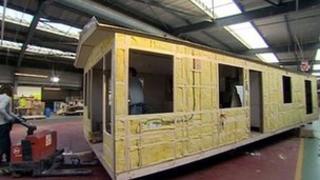 Three East Yorkshire Conservative MPs have voted against government plans to introduce VAT on static caravans.
In a parliamentary vote, 17 Conservatives voted in favour of an amendment to the Finance Bill that would have stopped the tax, cutting the government's majority to 25.
The caravan industry has claimed the tax will lead to 2,000 job losses.
Prime Minister David Cameron had earlier described the introduction of the tax as "fair".
The East Yorkshire Conservative MPs voting against the tax included David Davis, Andrew Percy and Graham Stuart. They were joined by the Conservative MP for Cleethorpes, Martin Vickers.
The only politician from the region to vote with the government was Greg Knight, Conservative MP for East Yorkshire.
Speaking during the debate in the House of Commons on Wednesday, Graham Stuart, MP for Beverley and Holderness, said he was concerned the impact the tax would have on caravan manufacturing, the bulk of which is based in East Yorkshire.
'Can't defend it'
"[It would] at best raise £45m a year while damaging the economy in East Yorkshire and damaging rural economies across the UK," he said.
"Therefore, I would call on the government to listen to the representations from the chamber today, from the industry over the coming weeks and to think again."
One Conservative politician who spoke out in favour of the tax was Nadhim Zahawi, the MP for Stratford-upon-Avon.
He said: "You can't defend this anomaly for what is deemed to be a luxury purchase.
"The idea that a towable caravan is 'VAT-able' and a static one is not is indefensible."
The industry's trade association, the National Caravan Council (NCC), has said that using the government's projected figures of a 30% decline in sales due to the new tax could mean that "in the first year, more than 1,000 jobs could be lost in manufacturing, plus a similar number from suppliers to the industry".