Hedon water plant's bad smell compensation fund 'shameful'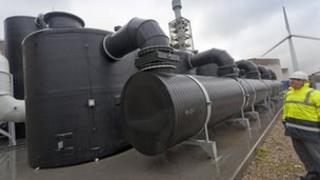 A £50,000 payout offered to residents affected by odours from an East Yorkshire water treatment plant has been dubbed "shameful" by a councillor.
Campaigners in Hedon claimed a smell of "rotten eggs" from the facility, in Saltend, had led to the cancellation of barbecues and other outdoor events.
Plant owner Yorkshire Water said it was offering the cash to support local community projects as an apology.
East Riding councillor John Dennis said the figure equated to £1 per person.
Last year the water company installed a £3.5m odour control unit to combat the problem.
'Enormous discomfort'
In a statement, Richard Sears, from Yorkshire Water, said it was "unacceptable" that residents had "put up with odours from the site for a number of years".
He said: "We want to be a good neighbour and this trust fund underlines our commitment to working alongside the local community and doing what we can to give something back through this £50,000 cash fund."
Councillor John Dennis said he was pleased that Yorkshire Water had set up a compensation fund but was disappointed with the amount.
"When I initially proposed to them last summer that they should set up a community fund to help with projects in the area, I had suggested an amount twice that currently on the table," said Mr Dennis.
"Local residents have endured enormous discomfort and inconvenience over the past 12 years, ever since the Saltend Waste Water Plant first opened, and for Yorkshire Water to come up with a figure that equates to only around £1 per person is, frankly, shameful.
"I hope they will reconsider this decision."
The water company said the fund would be managed locally by a panel of 10 representatives from the community including councillors, residents and business owners.