Statue in Hull for 1950s singing star David Whitfield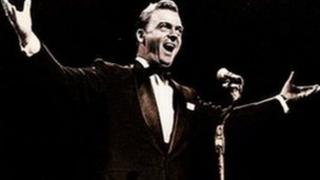 A statue of 1950s singing star David Whitfield is to be built in Hull.
The solid bronze 7ft (2.25m) statue and plinth will be placed in the city's Kingston Square opposite the New Theatre.
The application, made by his official fan club, was approved by Hull City Council on Tuesday.
Last year the council refused permission for the statue to be placed in the square, saying it clashed with its conservation area status.
Bill Wilkins, from the David Whitfield Appreciation Society, said the council's change of mind was a "very happy ending for a lot of people".
The society has paid for the £35,000 statue through donations from its 150 members.
Opportunity Knocks
Whitfield began his singing career in the city's working men's clubs after being de-mobbed from the Royal Navy in 1950.
He achieved fame after taking part in talent programme Opportunity Knocks on Radio Luxembourg.
After signing to a major record label, he released a number of songs that topped the charts in the UK and US.
His hits include Answer Me, I Believe and Cara Mia.
He was the first male singer to receive a gold disc for one million record sales and the first British artist to enter the US top 10 chart.
The singer died in 1980 at the age of 53, while touring in Australia.
Mr Wilkins said the singer had largely been forgotten by the younger generation, but his fans remained loyal.
He said: "People who do remember him are very pleased to know we will have a statue of him."
The campaign was backed by his widow Sheila, who still lives in the city.