Lotto win couple from Beverley plan dream wedding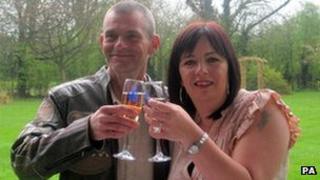 A woman has described how she proposed to her partner of 13 years after they scooped more than £2m on the lottery.
Wayne French and Becky Harrison, from Beverley, East Yorkshire, said the win meant they were now able to plan the wedding of their dreams.
Miss Harrison said the couple had always wanted to get married but were never financially able to.
Mr French said: "I have always thought I'd like Barbados, to be able to walk on white beaches. It's possible now."
Miss Harrison, a stay-at-home mother, said she asked her partner to marry her soon after she realised they had won £2.2m in Wednesday's lottery draw.
"I didn't get down on one knee, I just said I would like to get married now and he said, 'yeah'," she said.
Find a 'hobby'
She said the win came four days after celebrating her 34th birthday.
"Celebrating my birthday on 24 March, then winning the Lotto jackpot four days later and now becoming engaged - it just feels unbelievable," she said.
"It still hasn't sunk in but we really couldn't be happier."
Mr French said he intended to retire from his job as a support worker at a local hospital and find a "hobby", as well as spend more time in the garden with their four children.
He said: "Being able to retire at 44 is an amazing feeling - not many people can say that.
"As we've never actually had a family holiday abroad before, top of the shopping list is jetting off somewhere nice and hot."