Jobs lost as Comet confirms Hull call centre closure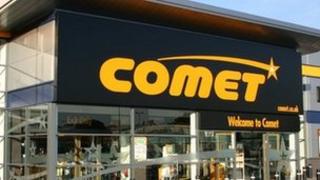 Hundreds of jobs are to be lost in Hull after electrical retailer Comet announced it was closing a call centre in the city.
Comet said last year it would close a site in Hull or Clevedon, near Bristol, as part of a restructuring programme.
It has now confirmed it is closing the centre in George Street, Hull, resulting in 240 job losses. Work will be transferred to Clevedon.
Hull West and Hessle MP Alan Johnson said the news was "disappointing".
He said he had a meeting with Hull council leader Stephen Brady and Comet officials last week to discuss ways of keeping the jobs in Hull.
'Loyal workers'
Mr Johnson said: "At the end of that meeting we were clear that they were minded, although call centre work would be reduced across the company because of the way they're restructuring it, what was left would be concentrated in Hull.
"This is a real surprise and I need to find out from Comet what happened between our meetings and their announcement.
"So there's some explanations needed as well as of course trying to help the important people in this which is the workers at Comet, loyal workers who have lost their jobs."
Comet was founded in Hull in 1933 and now has 241 stores and about 8,000 staff in the UK.
It posted losses of £22m for six months' trading last year and was sold last month for a token £2 to private equity firm OpCapita.
Comet said its Business Centre in Hull would remain open.
The company said it would also support Hull workers in finding new employment.
A spokesman said: "Following the proposal to move from two contact centres to one, Comet can confirm that, having carried out extensive research, the decision has been made to close the call centre in Hull and move the activity to our Clevedon base.
"In spite of this, we are pleased to say that the company will be retaining our business-to-business and insurance teams in Hull."