Lorry driver jailed over Hull cyclist's crush death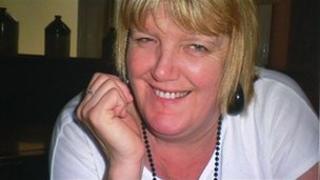 A lorry driver has been jailed for 27 months after his vehicle shed its load in Hull, killing a cyclist.
Mark Smith, 48, from Royds Hall Avenue, Odsal, Bradford, pleaded guilty to dangerous driving at Hull Crown Court.
The court heard that a container fell from Smith's lorry, crushing Susan Russell, 54, at a roundabout on the A63 last August.
Smith was also banned from driving for four years and ordered to retake his test before regaining his licence.
Ms Russell's family told the BBC that they were planning to appeal against the sentence.
The victim's sister, Patricia Kipling said: "She got squashed to death by his trailer and he's got away with 27 months and I'm pretty disgusted with it."
Hull Crown Court heard Smith had travelled more than 50 miles (80km) from West Yorkshire to Hull with an 8.2 tonne blast-proof cabin hanging precariously off his trailer.
Killed instantly
The accident happened at the Garrison Road roundabout in east Hull at about 07:30 BST on 20 August 2011.
Mrs Russell, who had two daughters and four grandchildren, suffered multiple injuries in the accident and was killed instantly.
Smith, who has 27 years experience as a lorry driver, had secured the load with only two straps.
One of the straps was not properly fastened and Smith had also failed to use matting to stop the load from slipping.
The court was told it would have required 40 straps to keep it securely in place without the matting.
Prosecutor Bernard Gateshill said Smith's actions amounted to gross negligence.
"We say he must have seen that the trailer was overhanging, he did see it, he must have appreciated the risk, he decided for his own reasons to carry on regardless and take that risk."
'Riddled with guilt'
Smith's barrister, Richard Gioserano, said: "His case is he didn't realise that this was dangerous because he didn't realise it had moved because he didn't check its position before he set off."
The court was also told Smith was "riddled with guilt" and often had nightmares and flashbacks.
Judge John Dowse said Smith had led an unblemished life but it was now in "tatters" as a result of his negligence.
Judge Dowse said: "You should have inspected it, you should have had more straps, you should have stopped and you should have called for help.
"If you had done any of these things, I'm afraid it was more than likely this lady would not have lost her life."
Smith apologised to the family of the victim as he left the dock.
He said: "I'm sorry to you all."