Windfarm developer's community fund dubbed as 'bribery'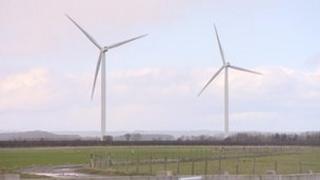 Payments made by a windfarm developer to an East Yorkshire village have been described as "verging on bribery" by campaigners.
REG Windpower is building five turbines, measuring 100m in height, in Sancton near Market Weighton.
The company said it entered into a planning agreement with the borough council and set up a £100,000 fund to be a "good neighbour".
However, some residents feel they have been bought out.
Resident Mike Padgett said: "Most of us - me included - feel that we've been seduced by a little bit of money into the village and that's going to get used up fairly quickly, those things will come and go, we've got 25 years at least of a windfarm here, which I don't think is right."
'Very useful'
Steve Hey, from the No To Wolds Windfarm group, said: "For these developers to come along and offer tens of thousands of pounds to these local communities - it's verging on bribery."
However Graham Ward, Chairman of Sancton Parish Council, said the fund had paid for a new children's playground to be built, and other improvements.
"We had no shop, the village hall was derelict, we had no playground for the kids, they were stuck on the corner of the streets," he said.
"So in reality it's got us some very useful money to be able to improve our village in a significant way."
Contributions donated by a developer for the benefit of communities affected by development are commonplace and a legal practice.
Councillor Simon Fraser, of East Riding of Yorkshire Council, said: "It's a way of acknowledging that the [turbine] structures do have an impact on the local environment and [that there] will be some sort of a recompense to those local people for that situation."
REG Windpower said it would make annual payments of about £30,000 to the fund.