P&O Ferries fears job losses after new pollution rules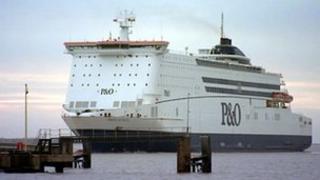 Ferry company P&O has warned that job losses are "inevitable" if it has to switch to a different type of fuel under new government measures.
It said fuel costs would rise by £60m a year as tougher new sulphur emission laws in the North Sea come into force from 2015.
The rise in fuel bills would result in passenger fare increases, fewer services and potential job losses.
The government said the new controls would "markedly reduce" pollution.
P&O have warned that Hull would be one of the hardest hit ports because of longer journey times compared to the cross channel services.
Under the new rules, all ships will be required to change to a new refined fuel type that contains 0.1% sulphur. Currently, the shipping industry uses a minimum of 1%.
The government claims the new controls will "markedly reduce sulphur emissions from ships, and consequently improve air quality in the UK and beyond, delivering significant health and environmental benefits".
The Commons' Transport Select Committee has supported the government but said the costs of tighter controls would be outweighed by the health benefits, which it estimates at £1.1b a year from 2020.
However, it urged the government to work with the shipping industry to help reduce the costs.
'Completely unsustainable'
P&O Ferries said the rise in fuel bills would result in passenger fare increases, fewer services and potential job losses. It also claimed that more traffic would be transferred to the roads.
"This will change routes which today are marginal, to be heavily loss making routes. This is completely unsustainable, with job losses inevitable," said the company.
It said ferry services within the North Sea emissions control area would face "severe economic cost pressures" from 2015 and non-economic routes would have to be closed.
"Within the UK, short sea and ferry services on the longer North Sea Routes from Rosyth, Newcastle, Teesport, Hull and Harwich are particularly exposed to these job losses," it said.
"Many of these areas are already suffering from high unemployment due to the ongoing recession over the last three years, and further job losses will hit these communities hard."