Cliff-face cameras to view Bempton Cliffs seabirds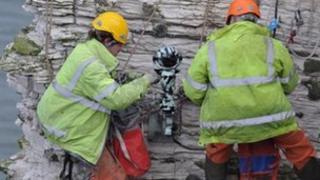 Two CCTV cameras have been installed on the cliff-face at a seabird centre on Bempton Cliffs near Bridlington.
The live video feed allows visitors to the RSPB reserve to watch a variety of birds nesting on the 300ft (91m) high cliffs.
The cameras were installed by engineers who abseiled down the vertical cliff-face.
In the summer breeding season the reserve is home to more than 200,000 gannets, kittiwakes and puffins.
The cameras are a permanent installation following a successful trial last year of a single camera overlooking the gannet colony.
David Aitken, RSPB Bempton Cliffs assistant warden, said: "Last year, the incredible close-up shots capturing tiny, intimate, and sometime ferocious moments in the lives of the gannets on Staple Newk, thrilled visitors on a daily basis.
"This year, the new cameras will bring us double the delight as we'll be able to watch the antics of seabirds on other parts of the cliffs."