BAE Systems confirms Brough job losses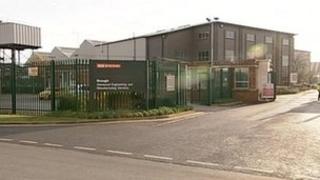 Hundreds of jobs are to be lost after defence giant BAE Systems confirmed it was ending manufacturing at its factory in East Yorkshire.
The firm announced plans in September to cut posts in Brough in order to maintain competitiveness.
BAE said no viable and practical alternative could be found during consultations with staff, unions and the government.
Staff were told on Wednesday that 845 jobs would go at the site.
The move means almost 100 years of manufacturing at the factory will come to an end next year.
BAE originally planned to cut 899 of the 1,300 posts in Brough, but last month it said 54 technical and engineering jobs would be saved.
'Very sad'
A BAE spokesman said staff had been applying for voluntary redundancy and were being offered opportunities at the firm's other sites in the UK and in Australia.
"BAE Systems has informed employees that it has now concluded consultation on the business proposal to potentially end manufacturing at Brough," he said.
"This is due to no viable and practical alternative being found despite the extensive and meaningful consultation that has taken place with the trade unions and executive representatives.
"The company, during the next stage of consultation, will continue to focus on reducing the number of redundancies and, as far as possible, explore all opportunities to mitigate the potential job losses."
Maggie Turpin, whose husband Steve works at the site, said: "I think it's just very sad.
"I think the government and BAE have let the workers down. The government cut the orders for the airplanes in the first place and manufacturing orders have slowed.
"I think because of the amount of skill that is down there more should have been done."
The government said strategic decisions about the site and business operations were a matter for BAE.
A spokesman for the Department of Business, Innovation and Skills said: "We understand this decision was made primarily in response to changes in key international defence programmes and the need to remain globally competitive at a time when defence spending in many nations is under huge pressure.
"We will continue to work with the company, local authorities and local enterprise partnerships to make sure that everything possible is done to help those individuals affected."