Humber Bridge tolls to be halved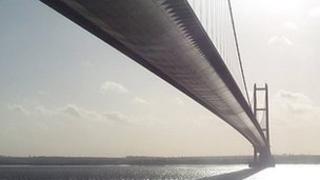 Humber Bridge tolls for a single car journey will be reduced from £3 to £1.50, the government has announced.
The reduction is expected to come into effect from April.
Last year the government cleared £150m of the bridge's £330m debt. It has now accepted a plan by four local councils to underwrite the remaining debt.
The four authorities agreed earlier this month to split the debt equally after North East Lincolnshire Council had previously refused.
Transport Secretary Justine Greening said: "This agreement is fantastic news as it significantly reduces the Humber Bridge tolls while securing a long-term, sustainable way forward for this important transport link.
"This deal is good for businesses and the local communities in the Humber area as well as the broader economy.
"I am grateful to the local authorities who have worked together to seize the opportunity offered to them by the government."
The Economic Secretary to Treasury, Chloe Smith, said: "This important deal will allow the toll for cars on the Humber Bridge to fall by £1.50.
"Agreement with the local authorities means the bridge will be more affordable for families and businesses, and hopefully deliver a real boost to the Humber area economy."