Comet call centre merger threatens 316 Hull jobs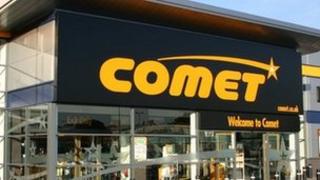 More than 300 jobs are under threat at Comet's call centre in Hull, the electrical company has announced.
Earlier this month it announced that about 450 jobs were at risk at its site in Clevedon near Bristol, including 138 call centre roles.
The firm said it was planning to close one of the two call centre sites as part of a restructuring programme.
If the Hull call centre is chosen for closure, all 316 phone-based office jobs there would be at risk.
A 90-day consultation period has started with affected staff.
'Significant savings'
Comet said it was looking to merge its two call centres into one site and a decision on where that would be was expected at some point during the consultation process.
Bob Darke, chief executive of Comet, said: "In a phenomenally tough climate, significant savings are required to secure the long-term survival of our business.
"In no way should this be seen as a reflection of the commitment and efforts of our employees and we'll make every effort to help those ultimately affected to find alternative employment.
"These proposals are still subject to a three-month consultation process and we'll continue to look at a range of options across our sites."
Comet, which has 248 stores and about 10,000 staff in the UK, was sold earlier this month for a token £2 to private equity firm OpCapita.
Revenues fell 14.5% on a like-for-like basis between 1 November 2011 and 8 January, while it posted losses of £22m for six months trading last year.