Hull council warns drivers over blue badge scheme abuse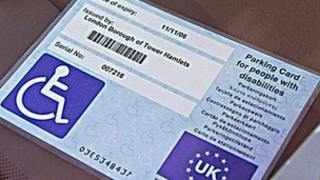 Drivers in Hull who abuse the blue badge parking scheme for disabled drivers will risk prosecution, the council has warned.
Hull City Council said it is working with police to protect people with genuine disability needs.
A new style of blue badge was introduced by the government in January to help reduce abuse of the scheme.
The council said parking enforcement officers would gather evidence of any fraudulent use to pass to police.
There are 12,472 blue badge holders in the city and on average, 1,750 badge holders park in Hull city centre spaces every week, the Labour-run council said.
Criminal offence
Councillor Martin Mancey, portfolio holder for environment and transport, said: "This permit is a lifeline for people with disabilities, enabling them to park close to essential services.
"We want to protect people with genuine disability needs and will be working with Humberside Police to stamp out misuse of the system."
Mr Mancey said the city's parking enforcement officers would be vigorously inspecting blue badges to check that they are being used legally.
Officers are equipped with cameras and radios, and if they suspect misuse of a badge, can gather the evidence to pass to Humberside Police, he added.
It is a criminal offence for anyone to misuse a badge, and doing so could lead to a £1,000 fine.
Previously, blue badges were made from card and were handwritten, but from 1 January disabled drivers have been able to apply for an electronically printed badge, much like a driving licence.
The change was introduced by the government to cut abuse of the scheme which it said costs the UK £46m a year in lost parking revenues.