Agreement reached on Humber Bridge debt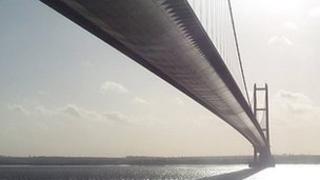 Humber Bridge tolls are expected to fall after an agreement was reached on managing the bridge's debt.
Last year, the government cleared £150m of the £330m owed, but the four councils surrounding the Humber could not agree on how to share the remainder of the debt.
North East Lincolnshire Council approved a plan to split the debt equally in a meeting on Wednesday night.
The deal could see tolls halved.
North East Lincolnshire Council had previously refused to share the liability equally, saying the debt should be divided by population size.
Speaking after the meeting, council leader Chris Shaw claimed the council was forced to change its stance after the government made it clear "that they weren't going to take anything else apart from the 25%".
"If we didn't sign up to the 25% then we could lose the whole scheme and then tolls could stay at £3," he said.
Mr Shaw said that as part of the deal patients on the south bank needing treatment at hospitals in Hull and East Yorkshire should get toll-free travel across the bridge.
He said he hoped the reduction in tolls would start on 1 April, with the free medical travel following soon afterwards.