Humberside Fire Service to fit fire sprinklers in homes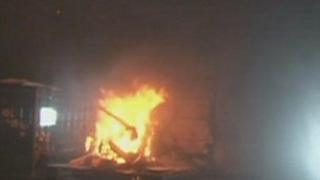 A fire service has started a trial of fire sprinkler systems in the homes of vulnerable people.
Humberside Fire and Rescue Service is fitting fire suppression systems in the houses of some elderly and disabled people identified as being unable to escape in the event of a fire.
The initiative is part of the service's target of reducing domestic fire deaths to zero.
Humberside Fire and Rescue said six people died in house fires in 2011.
Systems will be installed in 10 homes as part of the trial, at an average cost of £2,000 per house.
The project is a partnership between the fire service and the region's NHS trusts and local councils.
Minutes count
Daryl Oprey, head of safety for Humberside Fire and Rescue Service, said: "These measures help give us more time to get there, or give them more time to survive whilst we get there.
"A fire can take hold very quickly and the products of combustion can have a serious effect within minutes.
"It takes minutes for the fire service to get there and unfortunately on some occasions we are a little bit too late.
"If we can extend the survivability of that person within the home then it will give us that window to get there and help them."
There is currently no legislation in England requiring fire suppression systems to be fitted to domestic properties.
Earlier this year, the Welsh Assembly passed a law called the Domestic Fire Safety Measure to fit sprinklers in new homes.
The National Fire Sprinkler Network, a coalition representing UK fire authorities and backed by the Chief Fire Officers' Association, said similar legislation should be brought into force in England.