Kerry Foods factory to close with loss of 340 jobs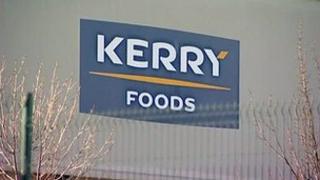 A frozen food factory in North East Lincolnshire is facing closure, with the loss of about 340 jobs.
Kerry Foods is consulting staff over the planned closure of its Grimsby plant, blaming market conditions.
The company said it would close the site by the end of April if an alternative could not be found as a result of the 90-day consultation.
Kerry Foods' major markets are chilled convenience foods in the UK and Ireland.
James Barrett, an employee at the factory, said: "It's a shock. It's going to hit a lot of people hard... and it's going to be difficult to find work.
"But I could see it coming. There was no money being spent in the factory from the four months I was here and you could see things, machines, breaking down and there was nothing being done about it."
'No option'
Frank Hayes, spokesperson for Kerry Foods, said: "We've commenced a review of our frozen ready meals business due to the competitive pressures within the industry.
"Recent market conditions unfortunately have resulted in lower factory throughput and reduced sales across most of the major accounts.
"While we've made considerable reductions in our cost base and have sought to win additional business, unfortunately we have failed to secure enough business.
"Regrettably, unless an alternative plan can be identified to safeguard production, we would have no option but to consider closing the Grimsby site by the end of April.
"We will of course review other potential alternative projects which could be undertaken at this site."
Kerry Foods said it would do "everything possible" to assist employees affected by the cuts, including "securing additional employment and with training and development".
Kerry Foods bought the plant last February from Headland Food and kept on the workforce.