Optimism over agreement on Humber Bridge debt deal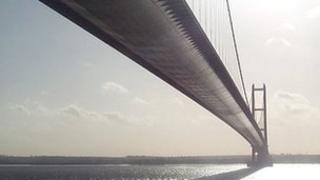 An MP has said he is "hopeful" that local councils will agree to cover the debts of the Humber Bridge, allowing tolls to be cut.
The four local councils around the Humber were asked to guarantee the bridge's costs as part of a government deal to halve its £330m debt.
North East Lincolnshire Council refused to share the liability equally, saying the split should be by population size.
Andrew Percy MP said a recent meeting seemed to have resolved the issues.
Mr Percy, Conservative MP for Brigg and Goole, said: "It looks like that all the four councils seem to be getting to a common position.
"We can get this deal done by April, there is still plenty of time to do that. Once the councils are signed up to the deal it is only a matter of weeks before those tolls go down."
Mr Percy said that North East Lincolnshire Council's stance may have been caused by a "misunderstanding" over underwriting the bridge's debts, built up over the last 30 years.
He said: "If ever the operating costs each year cannot be met by the tolls, they agree to cover that. Now as we know in the entire history of the bridge the tolls have always covered the operating costs. So that's been where the sticking point appears to have been."
Chris Shaw, the leader of North East Lincolnshire Council, said he was still seeking assurances from the government before recommending a deal.
"We now have additional information from the government's department for transport and the bridge board's financial assumptions and analysis.
"Risks however remain, especially around the anticipated level of traffic across the bridge as the recession continues to bite."