Further strike after Wincanton tanker talks fail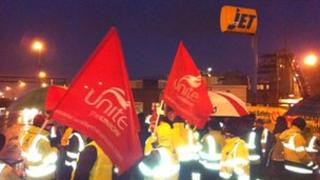 Fuel tanker drivers in North Lincolnshire will take part in another strike after talks with their employer failed to solve a pay dispute.
More than 80 drivers began a seven-day strike at the ConocoPhillips refinery at South Killingholme on Tuesday.
They now plan to walk out for another week from Thursday.
Unite claims haulage firm Wincanton is trying to cut the drivers' pay by up to 20%. Wincanton denied the claim and said the action was unnecessary.
Similar action has been taking place at depots in Kingsbury in Warwickshire and at Stockton-on-Tees.
Unite gave Wincanton notice of the second strike before Friday's talks.
Nick Dennis, from Unite, said Wincanton had approached the union and "asked us to enter into talks into a clear cost-down agenda on our terms and conditions".
He said workers had been on six-month rolling contracts and they wanted Wincanton to negotiate three-year contracts with ConocoPhillips to give drivers extra job security.
Mr Dennis said talks so far had been "fruitless".
He added: "They're in great jeopardy of this escalating and nobody wants that."
In a statement Wincanton said it was unable to negotiate longer contacts with ConocoPhillips while strike action was "threatening relationships with their forecourt partners and their livelihoods".
The company said: "While our drivers continue with this unnecessary strike, they are not getting paid and they are jeopardising our chances of extending the contract.
"At the same time, the disruption caused by the strike to the independent forecourt traders is putting their businesses at risk and leaves them with no other option than to seek alternative transport for their fuel supplies.
"We remain committed to an open dialogue with Unite and to continuing discussions with our employees."