Memorial day for 6,000 Hull trawlermen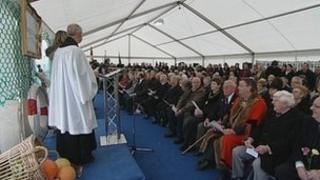 A memorial service has taken place in Hull for the 6,000 trawlerman from the city who have been lost at sea.
More than 500 people attended the 23rd annual Lost Trawlermen's Day service in a marquee close to the River Humber.
The event is always held in either January or February - a time of year when most trawlers were lost.
Councillor Stephen Brady, leader of the city council, said it helped relatives who had lost loved ones at sea to "pay their respects".
The event, at the St Andrews Quay retail park near the Sailmakers' Arms, was designed to maintain Hull's fishing port heritage and remember the men who worked in such a dangerous occupation.
Triple tragedy
The address was given by Anne McLaren, port chaplain for the Catholic charity Apostleship Of The Sea.
Speaking before the ceremony, Mrs McLaren said trawlermen were often away from home for two to three weeks at a time.
She said: "It must have been very difficult for the community of Hull at home, waiting for news. When the trawler returned there'd be great celebration that their fathers, brothers had returned.
"It's very important to have a service so people can come together and they can remember their loved ones... and remember the sacrifices made to bring fish to the plates of the UK."
The loss of the Ross Cleveland, St Romanus and Kingston Peridot trawlers in just one month in 1968 were remembered at the event.