East Yorkshire flood defence scheme studies get cash boost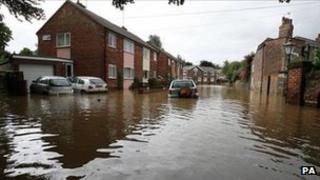 Studies into flood alleviation schemes in Hull and East Yorkshire are to get a joint £365,000 cash boost from the Environment Agency.
Councils in both areas are looking into ways to protect properties from flooding.
The studies will assess watercourses and drainage systems in west Hull including Willerby and Anlaby.
About 10,000 homes and businesses were affected by the floods in 2007, which was caused by heavy rainfall.
Engineers at East Riding of Yorkshire Council and Hull City Council are using a computerised model of the area's sewerage system to look at a number of flood prevention solutions.
'Best option'
It is hoped two schemes will be in place by spring 2015.
Leader of East Riding of Yorkshire Council Stephen Parnaby said: "This feasibility funding is excellent news.
"The urban catchment model currently being devised is certainly one of the most complex drainage models attempted in the UK and possibly even in Europe.
"Once complete, our engineers will be able to devise and verify the best options for any future works before seeking feedback from residents.
"Both councils take flood prevention very seriously and these two schemes would go a long way in reducing the risk of flooding for thousands of properties against the kind of severe rainfall we saw in the summer of 2007."
Both councils jointly secured £175,000 of funding last year to carry out a feasibility study into a flood alleviation scheme in Cottingham and Orchard Park, north Hull.
The additional grant will bring the total funding to £540,000.