Tata Steel wins wind turbine deal for Scunthorpe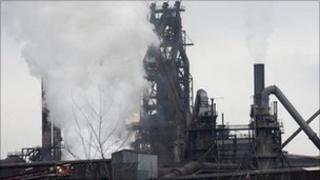 A steel giant which is shedding 1,200 jobs at its Scunthorpe plant has secured a multi-million pound contract to supply a wind turbine manufacturer.
Tata Steel announced the order for 25,000 tonnes of steel plate, which is the largest so far for its dedicated wind tower site in North Lincolnshire.
Delivery of the steel is expected to start in April and Siemens will use it to build about 150 onshore turbines.
Tata Steel said it aims to be "a key supplier" in the offshore wind market.
Phil Knowles, a commercial manager for the firm, said: "Demand for steel in the renewable energy sector will continue to grow, and we're ideally placed to help our customers tap into this important opportunity.
"The agreement we've negotiated with Siemens Wind Power is a strategic customer alliance that will help in our objective to be a key supplier in the offshore wind power market."
Unions have said the job losses will have a big impact on local communities.
The Indian firm's wind tower hub in Scunthorpe was established in 2010 to process and distribute steel plate to manufacturers of wind turbine towers.