Rathlin Energy gets go-ahead to drill for Yorkshire oil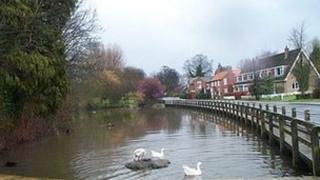 A Canadian energy company's plan to drill for oil reserves near rural villages in East Yorkshire has been approved.
Rathlin Energy is planning to sink a one-and-a-half mile deep borehole in the ground between Bishop Burton and Walkington.
East Riding of Yorkshire Council approved the plans, which will include all-day drilling for five weeks.
Some residents had objected to the plans.
The plan is for an exploratory drilling operation to see if viable reserves are under the ground.
David Montagu-Smith, chairman of Rathlin Energy UK, said: "Exploration ventures like this are an absolutely necessary first stage to establish what is under the ground."
'Not unexpected'
A council report said Rathlin Energy would suspend the operation and submit a further planning application for the production of the fuel if commercial quantities of petroleum were found.
Peter Rolinson, from the Stop the Drill campaign, said he was "very disappointed at the decision".
"It's not an unexpected decision. We were hoping for a least a deferral, if not an outright rejection," he said.
He said that the protest group would object again if the company found reserves and decided to reapply to the council for permission to extract them.
The energy company said it had no plans to use the hydraulic fracturing or fracking method, which involves the high-pressure fracturing of rocks with a mixture of water, sand and chemicals.
Fracking has been linked to two minor earthquakes in Blackpool last year.