Protest march against Grimston dog breeding site plan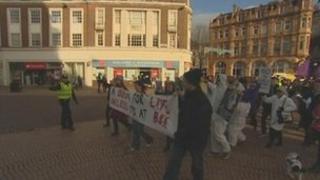 A protest - backed by comedian Ricky Gervais - has taken place against plans for a major centre in East Yorkshire to breed dogs for scientific research.
Plans to extend the Grimston site owned by B&K Universal were rejected by East Riding of Yorkshire Council in June.
The company has appealed against the decision and the matter is due to be settled by the Secretary of State.
More than 28,000 people have signed a petition against the plans and Gervais has spoken out against them.
Campaigners are taking part in a march through Hull where speeches are being given by anti-vivisection activists.
'Gentle, trusting dogs'
In a statement released by the British Union for the Abolition of Vivisection (BUAV), Gervais said: "I am disgusted to learn of these plans to breed beagles for experiments. It is unacceptable that these gentle and trusting dogs should be treated as commodities."
In a statement, B&K Universal said there were no alternatives to using animals for some aspects of medical research.
The company said the number of dogs being bred in the UK for its purpose currently did not meet the existing demand.
The firm said: "It is better for animal welfare that animals are bred locally and therefore do not need to be shipped over long distances.
"Our development will not increase the numbers of animals used in experiments - it will simply allow researchers additional choice for local supply."