No criminal charges for Humberside PCSO who hit boy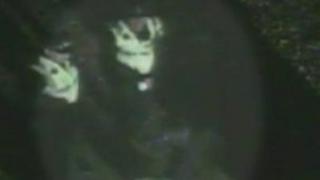 A police community support officer (PCSO) who struck a 15-year-old boy in the face will not face prosecution.
The officer hit Liam Watters last year at a Grimsby community centre in an incident caught on CCTV.
Humberside Police launched an internal misconduct investigation and found the "officer's conduct fell below the required standard".
Liam's mother said she intended to appeal to the Independent Police Complaints Commission.
The incident took place at the Nunsthorpe Respect Funhouse centre on 31 October 2011.
'Halloween joke'
The investigation was launched when CCTV footage was passed to a local newspaper.
In a copy of the report by Humberside Police's Professional Standards Branch, seen by the BBC, the force said: "The allegation relating to Authority, Respect and Courtesy by striking the complainant on the cheek is upheld."
The report said that Liam was hit "to the face cheek as part of a joke involving Halloween and the wearing of facemasks".
"The PCSO has been given strong advice about his role and the boundaries to be considered when building professional relationships."
Liam said: "I'll never speak to them again. Lost loads of respect for them. You're meant to look up to them and take them as a role model, but now I can't."
His mother, Karen Ismael, said: "I can't express what I felt. So mad. What right did he have to touch, let alone smack the child?"