P&O North Sea ferry unable to dock in Hull due to gales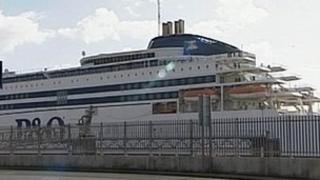 More than 300 passengers spent the day stranded on a ferry off the East Yorkshire coast.
The Rotterdam to Hull ferry, The Pride of Hull, was due to berth at 08:00 GMT but was unable to dock after fears that high winds could damage the ship as it entered port.
The ferry's operator P&O said no tugs were available and the vessel had to go back out to sea.
It eventually arrived at the city's King George Dock at 17:15 GMT.
Clive Gossop, from P&O, said: "It's a combination of two things. One is obviously the wind and the other is the tide.
"We had low tide this morning, so by the time the ship had manoeuvred towards the river berth the tide had gone down sufficiently, so that we couldn't bring the ship to the berth."
P&O said the sailing to Rotterdam was expected to depart two hours late at 23:30 GMT.