Humber Bridge tolls: Chancellor George Osborne calls for early cut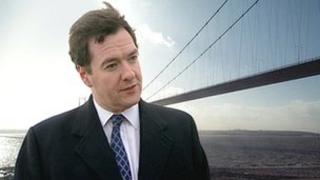 Tolls on the Humber Bridge should be cut in the next two months, Chancellor George Osborne has urged.
Mr Osborne said the Humber Bridge Board, which operates the bridge, should halve the £3 toll for cars as it had been "high for too long".
The chancellor was visiting the bridge following his Autumn Statement in which he announced the government had cut the bridge's £330m debt by £150m.
The government had "done its bit" and the board should now act, he said.
Mr Osborne said he also hoped the Humber Bridge Board, whose members are all local councillors, would agree to cut lorry tolls.
Before the chancellor's announcement, the bridge, which opened in 1981, had an outstanding debt of £330m after it was financed with a £150m government loan, which rose due to interest.
The toll for motorists crossing the Humber Bridge was raised from £2.70 to £3 in October, making it what was thought to be the most expensive crossing fee for a return journey in the UK.
'Excellent news'
Speaking during a tour of the Humber Bridge, Mr Osborne said the government had "stepped in" to help bridge users by cutting its debts as part of the National Infrastructure Plan which he announced during his Autumn Statement.
"This is really going to help the economy in East Yorkshire and North Lincolnshire," he said.
"This government has acted after decades-long campaigns to get the tolls down.
"It's all part of getting the economy here in Yorkshire going. We're doing everything we can to support the local economy."
Ian Kelly, chief executive of Hull and Humber Chamber of Commerce, said Mr Osborne's call for a quick reduction in tolls was "excellent news".
"Certainly we would welcome this as an early measure, he said.
"It has been a priority for a very long time and the sooner, the better."