Philip Larkin poems on slates at Hull railway station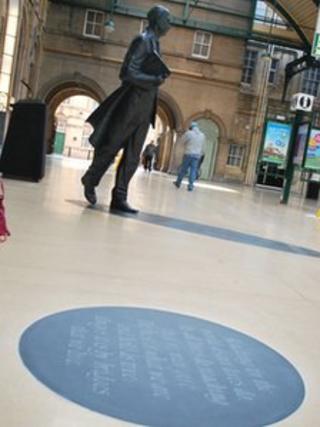 Five slate plaques featuring the poems of Philip Larkin have been unveiled at Hull railway station.
The metre-wide roundels are the work of sculptor Martin Jennings, who created a statue of the Hull-based poet which is located on the station's concourse.
The slates sit beneath the 7ft tall (2.1 metre) sculpture, which was installed last year to commemorate the 25th anniversary of the poet's death.
Larkin lived in Hull for more than 30 years.
He worked as the head librarian at the University of Hull and produced most of his published poetry and other writing while living in the city.
Many of the poet's works were inspired by locations around the region.
Hull's Paragon Station was mentioned in one of his most famous pieces, the Whitsun Weddings.
The vice-chairman of the Philip Larkin Society, Professor Graham Chesters, said: "These roundels will be intriguing and what they say about the poet, the station and the city that he loved to return to, will be unique to each passing reader.
"Paragon is a gem of a station and these features will make it even more attractive."
The sculptures were organised by the Philip Larkin Society, which ran a year-long series of events in 2010 to mark the 25th anniversary of his death.
Activities included a poetry prize and a tourist trail featuring Hull locations featured in Larkin's life and works.