Church metals thefts a disaster, says archdeacon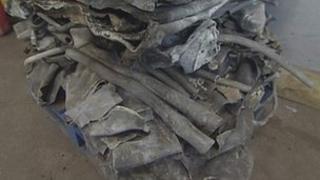 The archdeacon of the East Riding has described metal thefts as a financial disaster for churches.
The comments from the Reverend David Butterfield come as one insurance company has imposed a limit of £5,000 on claims.
Ecclesiastical Insurers said it had paid out £25m in claims for metal thefts from churches over the past five years.
Humberside Police held a special "day of action" on the issue in October.
The archdeacon of East Yorkshire said: "The income for a local church is purely from the giving of the people in the community.
"You can imagine what it must be like if you suddenly have to find X thousand more to pay for the repair of a roof that is leaking.
"So financially it's a disaster really, and a great discouragement to everybody involved."
The main insurance company for churches, Ecclesiastical Insurers, said it still provided cover for metal theft but had been forced to introduce a cap on payouts of £5,000 per claim.
The company said: "Metal theft is the most serious ongoing crime epidemic our churches have ever faced.
"Over the past five years we've received more than 9,500 metal theft claims from our church customers, costing more than £25m."