Bahamas re-registered P&O Ferry sets sail from Hull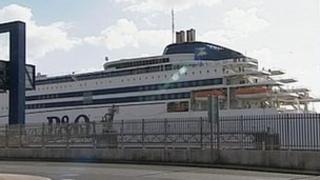 A Hull-based ferry is sailing under a new flag after being re-registered in the Bahamas in a bid to save money.
P&O Ferries has changed the status of the Pride of York to avoid new European employment laws that could impose increased wage costs.
Brian Rees, from P&O, said there were no implications for passengers and the service was operating as normal.
Russ Garbutt, a former master on the Pride of York, said it was a "very sad day".
The Pride of Hull is expected to carry the the Bahamas flag in two weeks time.
So-called "flags of convenience" enable shipping companies to employ crew members who operate under different working practices, at cheaper rates.
Mr Rees said: "It's to protect us against possible changes in employment legislation which would take our wage bill up."
He said a large number of staff are temporarily employed via agencies and would often be paid at a lower rate than the core crew.
"If we have to equalise that in the future, our wage bill would rocket and we just can't afford that," explained Mr Rees.
Mr Garbutt said: "It certainly won't go down very well with the people of Hull and the area.
"Under the Tonnage Tax regime there were benefits to remain under the British flag. I fail to see why P&O wish to move outside of that regime because there are great benefits attached to it, not just financial but also manning and training of young seafarers."
The two ships currently travel across the North Sea to the Netherlands and Belgium.